The People Have Spoken:
RECALL: Two Out of Three Commissioners RECALLED
Third Barely Hangs On
Ballot: No to Building Codes, Yes to School Bond
by George Gramlich,
News and Commentary
An an astonishing display of voter revolt, the citizens of Custer County have successfully recalled two out of the three current County Commissioners with the third barely hanging on to his office by a mere 122 votes. Commissioners Bob Kattnig and Donna Hood were both successfully recalled by substantial margins.
Kattnig, who had only two years to go on his four-year term was recalled by a vote of 1,354 to 1,174, or 54% to 46%. Hood, who was just elected last year, was recalled by an even greater margin, 1406 to 1,130, or 55% to 45%. Commissioner Printz, who also was elected last year barely managed to survive the recall effort with a vote of 1,323 (52%) against his recall and 1,201 (48%) for his recall, or by a razor slim margin of only 122 votes.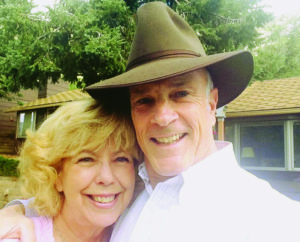 Joanne and Bill Canda
The winning successor candidate for Kattnig's District 1 seat was Bill Canda with a vote count of 1,402. There were no other candidates running for that slot.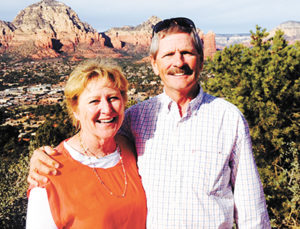 Cindi and Tom Flower
Hood's District 3 successor was Tom Flower who ran against Kit Shy and John Johnston for that position. Vote counts for successor candidates in District 3 were: Flower – 827, Shy – 691 and Johnston – 208.
The Building Codes ballot initiative, Ballot Question 1A, whether to proceed with implementing the 2006 IBC code in the non-incorporated area of Custer County, was soundly defeated by an overwhelming margin of 1,276 (65%) to 689 (35%). This building code implementation effort was one of the priorities of the current commissioners and was pushed incessantly by them. The margin of defeat speaks to the disconnect between the prior Commissioners and the electorate. The chief proponent of the code push was Printz.
Ballot Question 3A, whether the Custer County School District should borrow money (bond) to match a Colorado "BEST" grant, was approved by large margin, 1,481 (63%) to 886 (37%).
Ballot item 3C, Fremont RE-2 School District Change of Representation, was defeated by a margin of 74 (63%) to 43 (37%).
The results for the Custer County C-1 School Board were as follows: District 1: James C. Parkes Jr. won running unopposed; District 4:
Doreen Newcomb (778) was the victor over Mike Benoit (454) and incumbent Bob Jolley (497); District 5: Theresa (Terre) Davis, incumbent and Board Chair ran unopposed.
The Fremont County RE-2 School Board victors were Andy Franklin in District E (unopposed) and Linda Schmidt in District F (unopposed).
The recall was the first of its kind in Custer County history. The effort, spearheaded by the Take Back Custer County Recall Committee, headed by Ann Barthrop, Ann Willson and Mike Haga, was a non-partisan, grass roots effort initiated due to Commissioner gross mismanagement (the Robin Young Affair) and constant attempts to push extremely unpopular measures (e.g., building codes, Dark Skies), which were never brought up during their campaigns, on the people of Custer County. A good example is the defeat of the Building Codes Ballot initiative (1A) by a huge margin. This effort was pushed incessantly by the Commissioners even after, in meeting after meeting, they were told by the vast majority of attendees that it was not wanted. In addition, all three Commissioners ran as Republicans and were constant attendees at the Custer County Republican Central Committee meeting before their elections. Immediately after being elected all three never went to another meeting (except one by Hood that went poorly). All three also refused to attend this year's Republican Lincoln Day Dinner, the premier Republican social event of the year. To make matters worse, Kattnig even attended the corresponding democrat dinner this year. And as to loyalty, Printz recently changed his party affiliation from Republican to unaffiliated. The three, Kattnig, Hood, and Printz were liberals posing as Republicans to deceitfully win elected office. And all three have paid a price (Printz winning by only 122 votes, is by any fashion, a vote of "no confidence").
The Recall says a couple of things to our local politicians: Don't lie to the People or fail to tell the People what your real agenda is during a campaign; Treat People with dignity and respect and due process (e.g., the Robin Young Affair, and multiple displays of arrogance and disdain towards the People in public meetings); Listen to the People (e.g., building codes); and manage with compassion and team effort (e.g., the new personnel County policy which was top down driven).
The People have spoken. The People don't want to be Boulder. We want to grow, but grow in a "Custer County" fashion retaining our rural mountain roots and life style. The People want to go forward by consensus, not by the goals of special interest groups. So, local politicians beware, as the song of the week is more than apropos: Meatloaf's old rock 'n roll hit, "Two Out of Three Ain't Bad".