FORTY-YEAR HOME-GROWN SUCCESS Congratulations to Entrepreneur Russ Hartbauer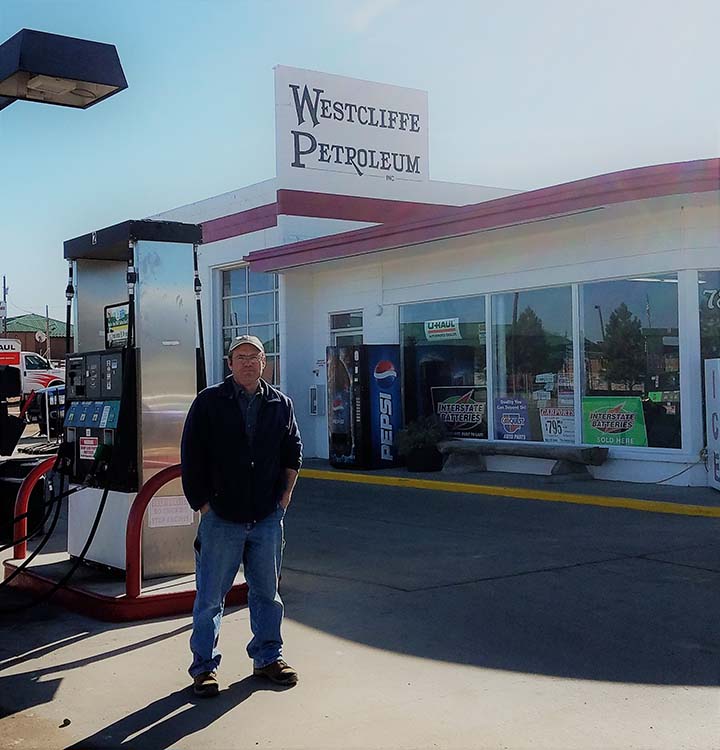 by Fred Hernandez
The year was 1978 in America. A good year. The average cost of a new house was $ 54,800, monthly rent was $260 and the price of a gallon of gasoline was 63 cents. Bacon was at $1.20 /lb. and eggs were 48 cents a dozen. On the international scene the big news was Egypt and Israel had signed the Camp David Peace Accords brokered by then President Jimmy Carter. Popular TV programs were "Charlie's Angels", "CHIPS" and "Happy Days", to name just a few. The top musical celebrities were the Bee Gees with "Night Fever" and "Stayin' Alive". On the silver screen "Grease" and "Saturday Night Live" were all the rage. Technology was boasting the first ever Cellular Mobile Phone by Illinois Bell. Yes, indeed it was a great year, 1978, but little did anyone know then that history was also being made in the little Town of Westcliffe in Custer County, Colorado.
A young man was starting his own business. Not yet twenty-one years old, Russell Hartbauer took a ten-year lease on the property on which stands the gasoline station known today as Westcliffe Petroleum Inc. on Main Street directly across from the school where he graduated as Senior Class President. Russell then went to auto technical school in Arizona and after jobs in related businesses in Colorado Springs and Pueblo, returned to his roots in Westcliffe in 1977.
Shortly after, he began his drive to success forty years ago this month. Today, Russ has the U-Haul franchise which he has held for 27 years, an auto sales operation which is the only one in the county and propane retail in addition to his car repair and gasoline retail of which he is an independent dealer. Sitting across from Russ in a one-on-one conversation ranging from small town politics to international issues, one gets the distinct feeling of exchanging views with an honest, down to earth man of high principles and solid moral values. A fourth-generation descendant of the original German Colony that came to the valley, Russ is no stranger to hard work and discipline. His tenacity and perseverance is also well documented when in March 28, 1990, an accident caused his business to burn down. Everything above ground was considered a total loss. Most others would have called it quits after such a great adversity. But that is not Russ. He rebuilt his business and forged ahead to success. He is devoted to his community and willing to do whatever it takes to serve his customers. Russ loves his work and feels very blessed to have the loyalty of his customers and his employees most of whom have been on the job for many years and some even decades. He also counts his blessings with his three children; Katrina who is in the Air Force, Ryan attending police academy in Durango and Alisha married to a military man. Yes, Russ has grown to become one of the strong pillars of this community.
To Russ Hartbauer, businessman, father, neighbor we say a well-deserved congratulation for a job very well done and may you have many, many more years of the same outstanding success you have had since that very good year, 1978.